2005 Winner - Glazed Roof Sunroom $30,000 and Over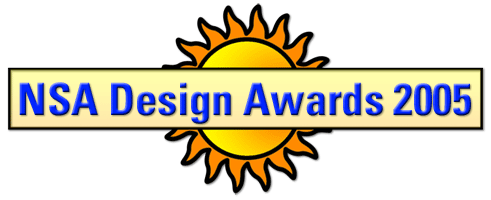 Winner - Glazed Roof Sunroom $30,000 and Over
Roll-A-Cover, LLC
36 Sargent Drive
Bethany, CT 06524
(866) 393-7292
Contact: Michael Morris
To view a short video on this award winning sunroom, click on the link below (broadband connection required).
A Miami architect was working on a redesign for a home, and he looked on the internet to find a different type of sunroom. What he found was Roll-A-Cover. "It's a telescopic concept," explains Michael Morris, President of Roll-A-Cover. "Each section is smaller or larger than the other, and they overlap."
This different approach to a sunroom offers a new aesthetic to a homeowner. "The sunroom is retractable," says Morris. "In Europe there are concepts similar to this, but we took it to a new extreme. This trackless system allows the owner to open up the sunroom, to truly enjoy the outdoors, but to close it up and continue use when the weather dictates."
The Design Awards are sponsored annually by the National Sunroom Association, comprised of manufacturers, suppliers and dealers in the sunroom industry.