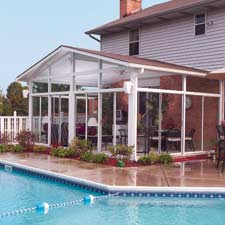 Champion Enclosure Suppliers
12121 Champion Way
Cincinnati, OH 45241
Phone: (513) 346-4600 or (800) 875-5575
Fax: (513) 346-4614
Contact: Cincinnati@championwindow.com
Product Line
Gable patio rooms
Studio patio rooms
All season vinyl patio rooms
Screen rooms
Retractable awnings
Replacement windows
Entry and patio doors
Vinyl siding
Basement living systems
Founded in 1953, Champion Window and Patio Room Company offers a line of custom home improvement products designed to be maintenance free, energy efficient and add value and beauty to homes. They custom manufacture patio rooms, replacement windows, and entry doors to ensure their stringent quality requirements are consistently met.
Champion Window and Patio Rooms operates factories in Cincinnati, OH and Denver, CO. They sell directly from factory to the consumer and eliminate middleman mark-ups. Champion's control over every aspect of manufacturing, distribution, installation and servicing, removes all customer concerns about who is responsible for their home improvement project. This has helped Champion to grow to be America's largest Patio Room, Window and Siding company.
Champion patio rooms and windows feature their revolutionary Comfort 365™ Glass that is 35% more energy-efficient in winter and 41% more energy-efficient in summer than standard dual-pane glass. Champion has also earned the Good Housekeeping Seal on their Patio Rooms & Replacement Windows. With over 250,000 satisfied customers and half a century of experience they truly are a Champion in the home improvement industry.