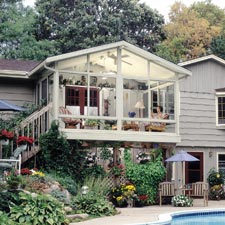 Craft-Bilt Manufacturing Company
53 Souderton-Hatfield Pike
Souderton, PA 18964
Phone: (800) 422-8577 or (215) 721-7700
Fax: (215) 721-9338
Contact: Ross Lederer
http://www.betterlivingsunrooms.com/
Product Line
Craft-Bilt Manufacturing Company has been making high quality home improvement products for 60 years. When founder Donald "Bud" Stone started Craft-Bilt in the basement of an old school house, he shared a simple vision with his fellow workers. He wanted to build his company's reputation on providing a safe and secure work environment delivering product and providing service to customers that "went the extra distance."
Today, Craft-Bilt is a recognized leader and innovator in manufacturing for the home remodeling industry, proud to be named by Glass Magazine as "one of the best companies to work for" in the glass and metal industry.
Craft-Bilt is dedicated to quality, consistency, and customer service. Our Betterliving patio and sunrooms components are tested and designed to work together as a complete system. All sunroom materials manufactured by Craft-Bilt are covered by Craft-Bilt's manufacturer's warranty.
We have built a reputation throughout the industry as an excellent sunroom manufacturer, maintaining our commitment to the Craft-Bilt tradition.
Enthusiastic Employees… Flawless Performance… Delighted Customers