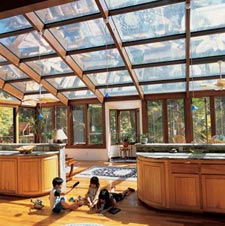 Four Seasons Sunrooms
5005 Veterans Memorial Hwy
Holbrook, NY 11741
Phone: (800)-FOUR SEASONS or (631) 563-4000
Fax: (631) 563-4010
Contact: Brian Fabian
Product Line
Porch and Patio Enclosures
Sunrooms & Solariums
Conservatories
Year-Round Room Additions
Skylights
Solid Roof Sun and Shade Rooms
Glass Roof Sun and Stars Rooms
Curved and Straight Eave Sunrooms and Solariums
Four Seasons Sunrooms manufactures and distributes the largest and most comprehensive selection of year-round glass room additions throughout North America and around the world through over 300 independently owned and operated franchises and dealers.
Four Seasons products have withstood the test of time in hundreds of thousands of residential and commercial installations worldwide. The company is committed to delivering products of superior quality and value to its customers worldwide by making efficient use of high quality materials and production methods to deliver optimal product value.
Four Seasons' exclusive, patented ConservaGlass™ has continuously achieved a CBA rating (the highest attainable) by certified independent testing laboratories. The exclusive and proprietary glass is produced under ISO 9001-certified designation from the International Organization of Standards. Four Seasons has a wealth of governmental and trade certifications and approvals including: ENERGY STAR, ICC-ES, National Fenestration Ratings Council (NFRC), Energy Star, American Architectural Manufacturing Association (AAMA), the Florida Building Commission (FBC), and California Housing and Community Development-Factory Built Housing Program (CHCD/FBHP).